These packages are designed for rapid implementation of PMWeb where the COTS (commercial off the shelf, also known as out-of-the-box) PMWeb solution is already well-aligned with a client's needs. The packages are also suitable for small installations with specific needs or a Pilot. The focus is on completing the initial set-up and training of Administrators/Super Users on how to use PMWeb's high level of user-configuration capabilities. The process includes:
Initial one-hour kick-off meeting, typically by videoconference or teleconference. This meeting makes sure the path forward is understood and expectations are aligned. On conclusion of this meeting, all parties understand the next steps and what "success" will look like on completion.
Standard templates are provided to the Client to complete. These templates provide a guide for confirming the Client requirements and a means of uploading initial information to the system. Once these templates have been completed and returned, the implementation proceeds as follows via interactive online meetings:
Base Package Services
What's included
Discovery
4 x 1 hour discovery sessions, working through the completed templates to confirm Client requirements and discuss options for configuration
Configuration
System lists, security, cost code, project, and other settings are configured based on information provided in the completed Client templates and as confirmed in Discovery
2 x 3 hour Configuration Sessions
Minor Report Changes to Standard Reports
Training
2 x 2 hour training sessions
Follow up
Up to 8 hours of follow up training, questions, and configuration sessions
Project Management
Account Management, Project Management and general attendances are included

Pricing
The 2022 cost for this base (48hr) package is $13,200 plus GST
Training Material
Video of each actual training session
Standard PDF documentation
- Administrator Guide
- User Guide
- PMWeb Tutorials
Reports, Templates & Forms
PMWeb "out of the box standard items relating to each Module
Standard PMWeb Templates & Forms
Standard HKA PMO Package is Optional (Risks, Issues, Actions, Decisions, Benefits, Deliverables and Lessons Learned)
Note: Modifications requested will use optional report customisation service hours
PMWeb Technical Support
By PMWeb - included in SaaS service or SSM Agreement with PMWeb
Optional additional packages
There are a number of optional packages that can be purchased for an implementation. Alternatively the work can be either scoped in advance, with a fixed lump sum agreed; or alternatively undertaken on a Time & Materials basis at agreed hourly rates. Fixed prices require adequate definition of the configuration requirements - which in turn require the Client business and technical requirements to be adequately defined. Standard additional packages are as follows: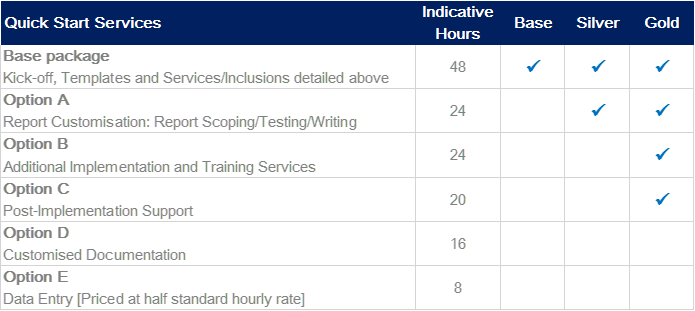 Contact us for more information on a package that best suits your needs.