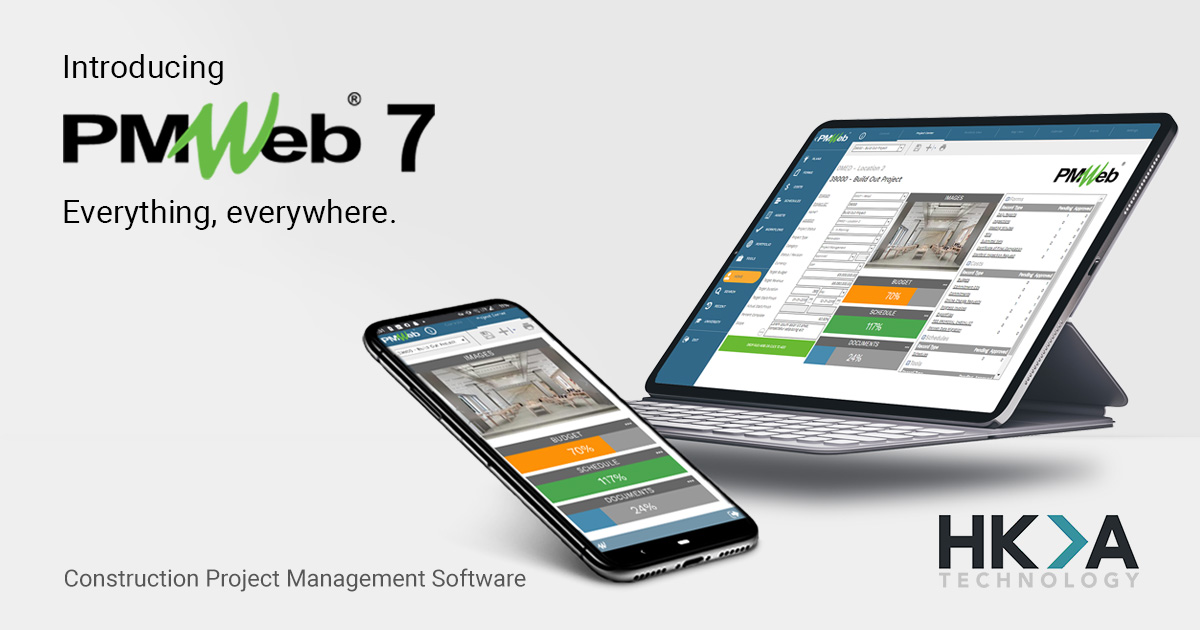 For over a decade, the world's most demanding construction professionals have relied on PMWeb to provide unrivalled power, flexibility, and ease of use, in a single, integrated, online platform. To that feature list, PMWeb has now added complete portability. on every device.
PMWeb 7 is optimised to load and run faster on devices large and small, even when managing the huge volume of data that modern projects generate. That applies to every feature in every PMWeb module, not a watered-down subset of field tools - and the new responsive design engine automatically adjusts the entire application to fit the screen you're viewing. Best of all, every feature of PMWeb is available without installing, maintaining, or worrying about, a single app. All you need is a browser and a password to immediately start working with PMWeb 7. Now you can take all of the best project management platform with you, wherever you go.
Watch Video on PMWeb Adaptive Design
Watch Video on the PMWeb Difference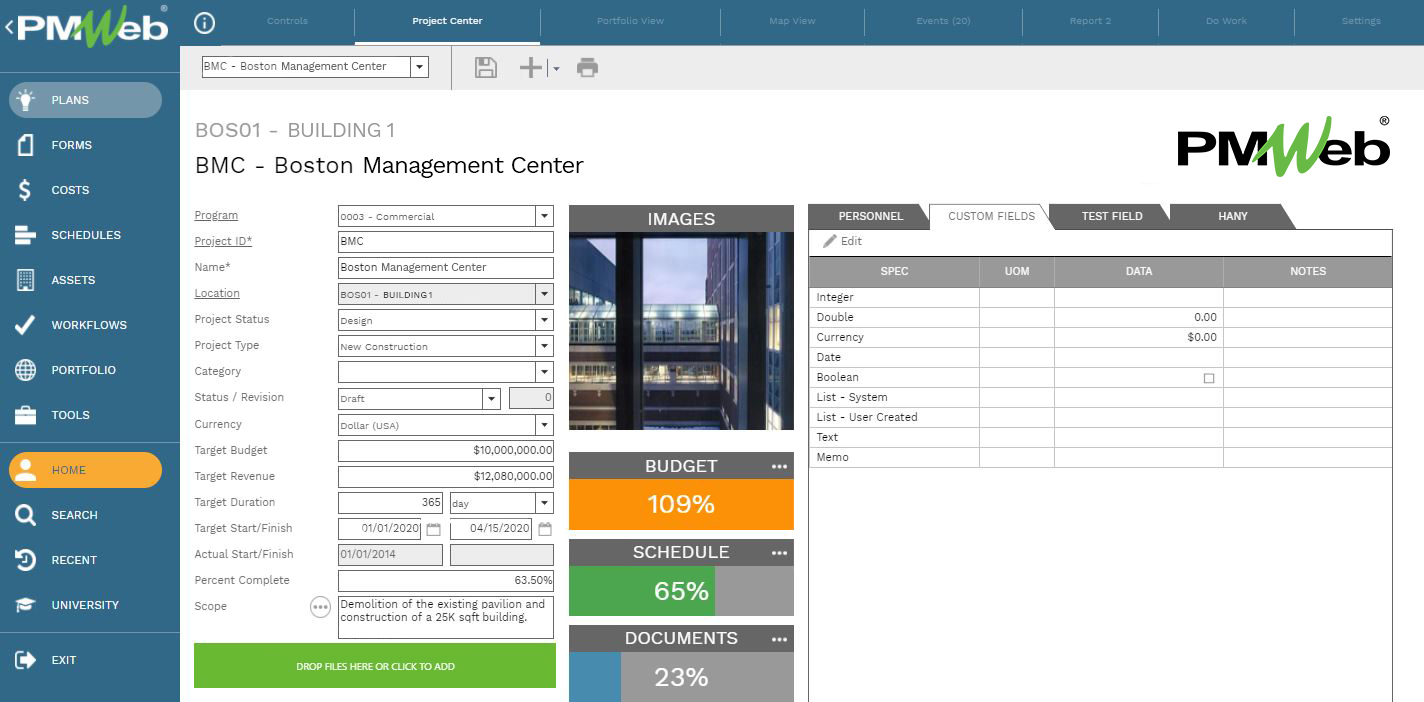 Responsive design
This is big. (and small) PMWeb 7 automatically detects the device you are using and the orientation of the screen and adapts itself to make best use of the available space. Project management's best feature set, all of your project data, instantly tailored to the device you're holding. Introducing PMWeb 7, powered by PMWeb's proprietary responsive design engine.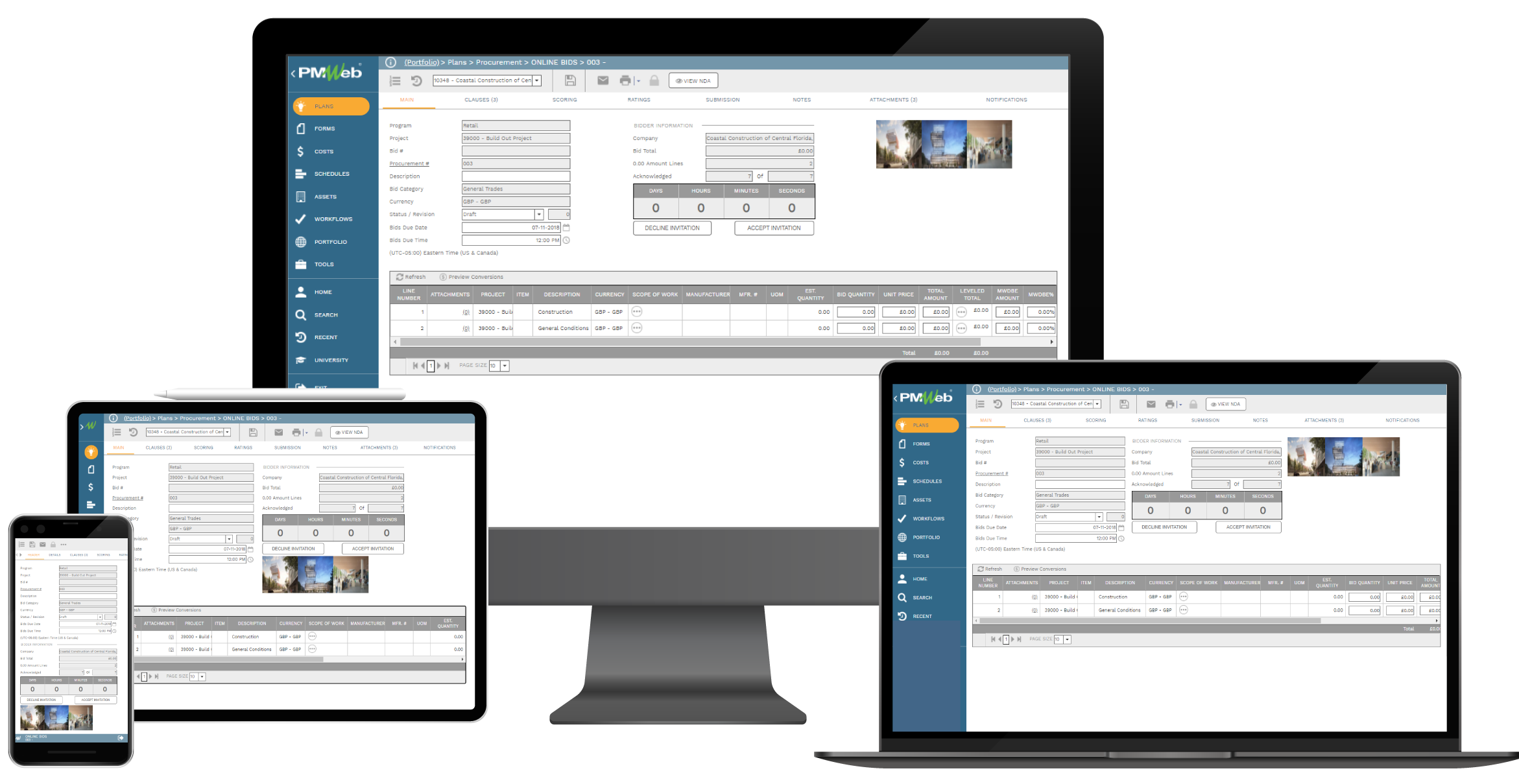 All new interface
Every page of every record type has been recoded, refreshed, and refined, in PMWeb 7.
Responsive layouts Screens automatically adapt to make best use of device space
Vertical line editing On narrow devices, tables are edited in easy to use vertical mode
Main tab The Main tab automatically separates to Header and Details for faster loading
Faster performance Pages have been recoded to load faster across the platform
Colours Now you can create your own interface colour scheme
Login page Add a personalised image to the login page to welcome users
Page layouts Page layouts have been standardised to make everything more intuitive
Control updates Every control in every page has been updated
Toolbar layouts Standardised toolbar layouts and a new icon set on every page
Control panel The menu has been replaced by a responsive, collapsible, control panel
Overlay menus Menus open in easy to read, space saving, overlay mode
Reorganised menus Menu choices have been logically regrouped and sorted
Breadcrumbs bar Enhanced to include more information on every page
Help icon Always at your fingertips in the new breadcrumbs bar
Online help Online help has been completely updated and new topics added
Home button A control panel button makes getting home easy from anywhere
Search button A control panel button puts platform wide search front and centre
Recent button (control panel) The last ten records you used, click any to reopen
Recent button (records) The last ten records of that type you used, click any to reopen
My settings Redesigned to make personalising PMWeb faster and easier
Home page controls tab Add a background image to make your PMWeb unique
Home page project centre tab 100% redesigned, 100% better
Home page map view tab Full screen interactive map with spreadsheet overlay
Drag and drop Drag and drop metaphor supported on every device and platform
Responsive dialogs Dialogs adapt to device form factors without sacrificing function
Document manager Simplified and streamlined for better management of digital content
Image gallery Image gallery redesigned and available everywhere
Copy project dialog Completely rebuilt for clarity
Post/unpost buttons Post buttons replaced with on/off switches
Linked assets, records, transmittals Tables replaced by lightweight, faster loading, fields
Layouts dialog streamlined Now even easier to create custom grid layouts
Security The define groups tab redesigned with an easier to use layout
PMWeb admin The admin module has been reorganised and updated