Dashboards & Reports
PMWeb comes out of the box with over 100 information-rich dashboards and reports that are easy to use and export. MS SQL Server Reporting Services (SSRS) is the Business Intelligence (BI) Reporting tool that is integrated seamlessly into PMWeb. It is one of the most advanced reporting engines available on the market .
Each Dashboard and Report:
includes links that allow drill-down to the underlying data in real time
can be exported in a range of standard formats. Exporting into PDF and Excel maintains formatting like no other tool on the market.
SSRS allows out of the box reports to be modified to suit exact Client requirements; and for new reports and dashboards to be built for any purpose.Look and feel is limited only by the imagination. Here is an example with Windows 8 theming - also showing how multiple Tabs can be configured on a user's Home Page to allow one-click access to commonly used dashboards and reports:
Here is another with similar theming:
Example of lighter graphics: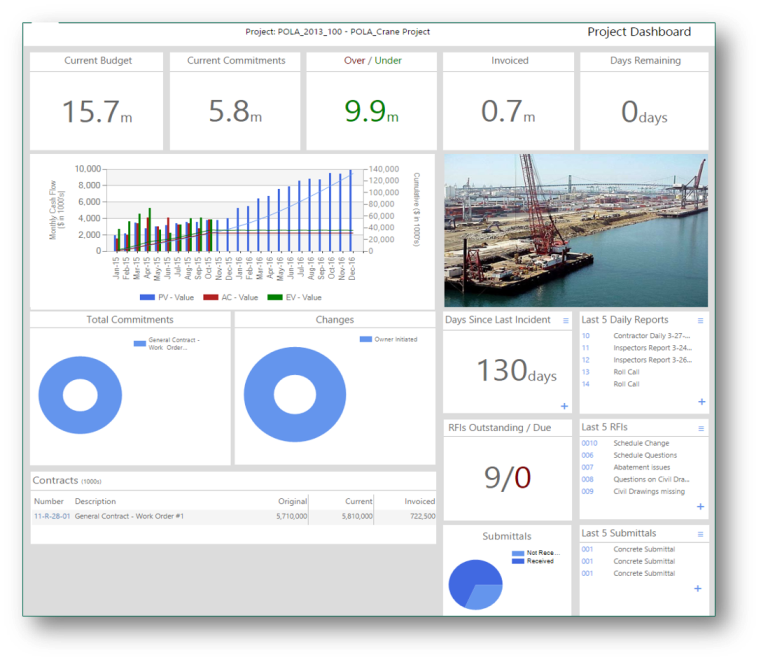 PMWeb is integrated with Google Maps and includes the ability to drill down from the opening screen's summary of Budget and Schedule to the actual underlting Schedule, detailed Budget, Cost Reports etc - right down to individual project data such as site safety information - and then back again. Just hover your mouse over the location, then click through for more data. The following is an example of an out-of-the-box User-configured dashboard: